'Fragrancing your wedding used to be seen as a finishing touch,' says Emma South, Fragrance & Lifestyle Expert at Jo Malone London. 'Now it's much more integral, the perfect way to create your time capsule of the day. Tythe is so special, an arcadian idyll in the heart of the British countryside.' We asked Emma to pair individual Jo Malone London scents to specific areas of the Tythe estate so however you are hosting your day, you'll have the perfect wedding fragrance to bring it to life.
'You won't go wrong with one of the bucolic scents like English Pear & Freesia which is evocative of the ripening of a pear orchard, flooded with golden light, that crescendo of Summer. But it also gives a hint of the first moment of Autumn with the Patchouli, the earthy forest floor. It's a wedding fragrance that takes you to the countryside. It's golden hour in a bottle.'
'We have a really special scent called Poppy & Barley which is all about celebrating the agricultural landscape of the UK. With the Tythe barn having originally been used for grain storage, it's an enchanting nod to the history of the estate. It has the wholesomeness, the cocooning comfort of Barley in the base. There's Fig and Blackcurrant in there too to add to the verdant feel.'
'Because of those incredible Oak beams, another brilliant one is our English Oak and Hazelnut which is loved by the guys. We never gender our scents, but we have noticed men are drawn to it. The barn will have a very enriched fragrance of its own that's developed over the centuries and exuded into the air. It feels like this one would be a great wedding fragrance souvenir of the day.'
'There's also Myrrh and Tonka which is incredibly popular, it's a sun-baked scent, reminiscent of the way sun-drenched days give way to starry nights. It feels so right for the barn with its twinkling canopy of fairy lights that are completely mesmerising.'
'I can absolutely see why people marry surrounded by Wisteria at Tythe. For them I would suggest our Wisteria & Lavender archive scent. It has a real freshness to it, sweet greenery, that cascading wash of purple, it captures the smell of Wisteria after the rain when it's slightly bejewelled with water droplets.'
'I love the attention that Tythe has invested into the planting. We're the same, the natural world will always be the muse for the Jo Malone London creative team. Our archive Silver Birch & Lavender fragrance, which would work so well with Tythe's Avenue of Birch Trees. It's all about those trees glistening in the first morning light, a hint of Grapefruit capturing the sense of cool morning light. I love that feel of filtered sunlight through the tree canopy. It's another one that's really popular with the gents.'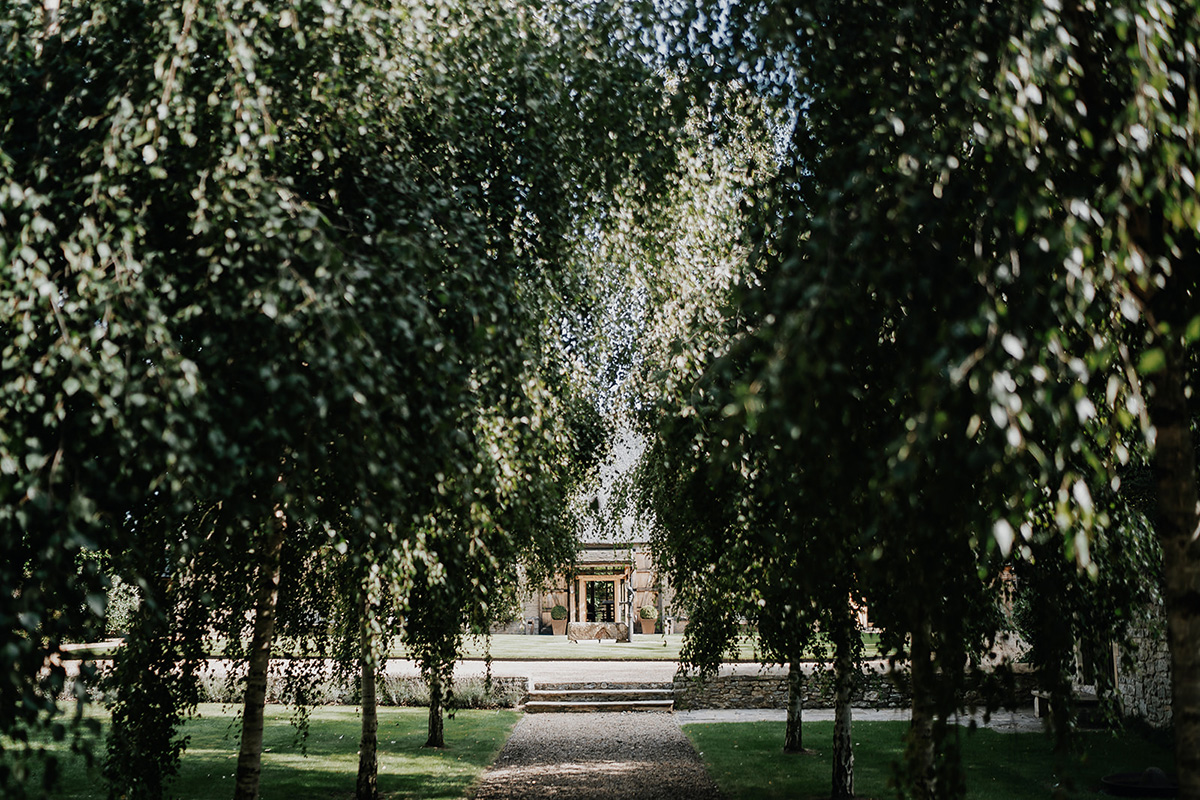 'Our night collection is perfect for the Farmhouse. Try our Lavender & Moonflower diffuser or the duo of pillow mists, one is Camomile based and the other one is Lavender and both would be incredible on Tythe's freshly laundered, crisp white bedroom linen. It will evoke the perfect night's slumber and feel very therapeutic if there are sore heads the next day.'
'Scent, just like music, envelopes everyone, it unites the day. At Jo Malone London we keep the scent aesthetic very simple, the palette quite restricted and that allows for this idea of scent layering where you can wear two or three different fragrances together or use them throughout your venue without it feeling cluttered.'
'Lots of the fragrances come in scented candles and candlelight is itself so enchanting and romantic. Everywhere is very photogenic at Tythe so work with your photographer to decide where best to group candles. Place them at different heights, clustering of odd numbers works really well. Consider misting the fragrance on tablecloths, napkins and stationery. That way, as soon as guests receive their invitations, the scenting experience is already happening. Do the same with the thank you cards afterwards too.'
'Choosing scent should be one of the real highlights of your prep and we always recommend couples coming in together for a complimentary consultation. It's like menu tasting, one of the things you can do together. We spend time finding out about your day and what you'd like the scent of it to reflect.'
'Peony & Blush Suede is eternally popular for weddings. When you smell it you see why. It's like an armful of pink, tumbling Peony flowers with a juicy bite or red apple, the romance of Roses and a little bit of Jasmine at the heart. The flower, like Wisteria, has a very small window of time when it's in bloom, and this is one way to have it whenever you like.'
'Another beautiful bridal scent is Sakura Cherry Blossom, a thin veil of fragrance, a transient moment which all adds to the beauty and poignancy of it. it feels like a cascade of confetti, because it has a very sheer voile-like Rose through it, with added white musk and lemon.'
'Also, Orange Blossom in Mediterranean culture is a symbol of everlasting love. It has the effervescent shimmer of citrus, that enriching balmy night air quality. Lime Basil & Mandarin over the Summer is always hugely popular, but Pomegranate Noir with its smoky spice of rich red fruit, really calls for those colder months or it's an evening scent when you want something with more gravitas. These are your fail safe choices.'
'One of the loveliest things is when couples choose something simple and small like a beautifully wrapped soap that's embossed with a guest's initials. It acts as your place name and a table decoration. We have our classic cream and black packaging, but we can change the ribbon to suit your colour scheme and have it embossed. For the special people in your team, you might like to have the caps of the fragrance bottles engraved to make it more of a sentimental memento of the day. The boxes also have a great afterlife, you can use them to store all the small mementos you want to keep.'
If you'd love to catch up with the full Tythe Live with Emma South chatting to Jade Beer, head over to our Instagram. Alternatively check out other planning and inspirational blogs here.
Photography Credits: Poppy Carter Portraits, Igor Demba, New Forest Studio, Flawless Photography, Georgi Mabee, Binky Nixon, Dearest Love, MT Studio Photography, First Sight Weddings.