Emma and Josh got married back in September 2021 after a long delay due to covid restrictions… well actually 502 days to be precise!
Having come across Tythe, by accident may we add, the wedding planning began and even though it was a much longer wait than anticipated, their day finally arrived. As you'll see in their beautiful photos by Matthew Bishop and the fantastic neon sign by Sundown Signs this day was definitely 'Worth the Wait'.
Tell us about your venue search and how did you find Tythe?
Josh and I got engaged in February 2019 and started planning our wedding shortly afterwards. First on our list was to book a venue and we accidentally stumbled across the Tythe Barn when my Mum booked a viewing by mistake! We thought we'd go along to the viewing anyway and soon realised it was a very special venue. It was the first venue we viewed and we instantly fell in love, nothing else compared. The Tythe Barn is simply stunning and had everything we wanted. We loved the style and attention to detail that has been put into every part and the resident dogs were a very cute addition! It is obvious how much care and love has gone into the whole place.
Once you'd chosen Tythe, how did Covid affect your wedding plans?
We were booked to get married in April 2020 but unfortunately Covid meant we had to postpone. We moved the wedding to October 2020 and the team at Tythe were so supportive and helpful during the process. As October approached, we were preparing to go ahead with a much smaller wedding of 30 guests but with two weeks to go, it was announced that weddings could only have 15 guests. With this news, we decided to postpone for a second time and moved our wedding to September 2021 in the hope that we would get the special day we wanted. Again, the team were so helpful and understanding and when we finally got our day with our full guest list of 150 guests, we knew it was worth the wait!
Tell us a little more about your wedding planning and of course your beautiful dress and bridesmaids dresses?
I found choosing my dress a little tricky as I am so indecisive but I really enjoyed the process. I went to lots of shops and tried on so many styles but decided on a Justin Alexander chiffon ballgown dress with beaded details. It was completely different to the style I thought I wanted but once I put it on, I knew it was the one for me. I bought it in April 2019 for our first wedding date and it felt so amazing to finally wear it two and a half years later!
For the bridesmaid dresses, I wanted my girls to wear the same colour but choose their own style dress so we started with an appointment at Wed2Be. They ended up all choosing the same style as it was so flattering on everyone and we came away with the dresses ordered after one appointment. I chose a soft blue for our spring time wedding but they worked perfectly for September too!
Can you share some more details about how you chose your suppliers?
For my hairdresser, I knew I wanted to use Emma Kim as she had done my hair twice previously when I was a bridesmaid for my sister, and also my friend. I loved her style and she completely understood what I wanted. Emma Kim recommended Chloe Eleanor for my make up and again, I fell in love with her style! She created a soft, dewy but glam look that suited my dress perfectly. They were both amazing on the wedding morning bringing a really fun but calm vibe.
So Emma, you have your own wedding stationery business, Emma Lou Stationery, tell us about your inspiration for your own wedding day designs?
I am a wedding stationer and Josh is a graphic designer so it was a no brainer that we would be doing our own wedding stationery. We wanted to create something unique and designed a trifold invitation with eucalyptus details and contemporary fonts. We continued the theme across our wedding day with our menus, name cards and signage. Our welcome sign and table plan were a particular favourite of mine to design!
How did you come across your other suppliers for the day?
For the photographer, we came across Matthew Bishop on the Tythe Barn's recommended supplier list. We loved his relaxed, documentary approach and that he had already photographed the barn before.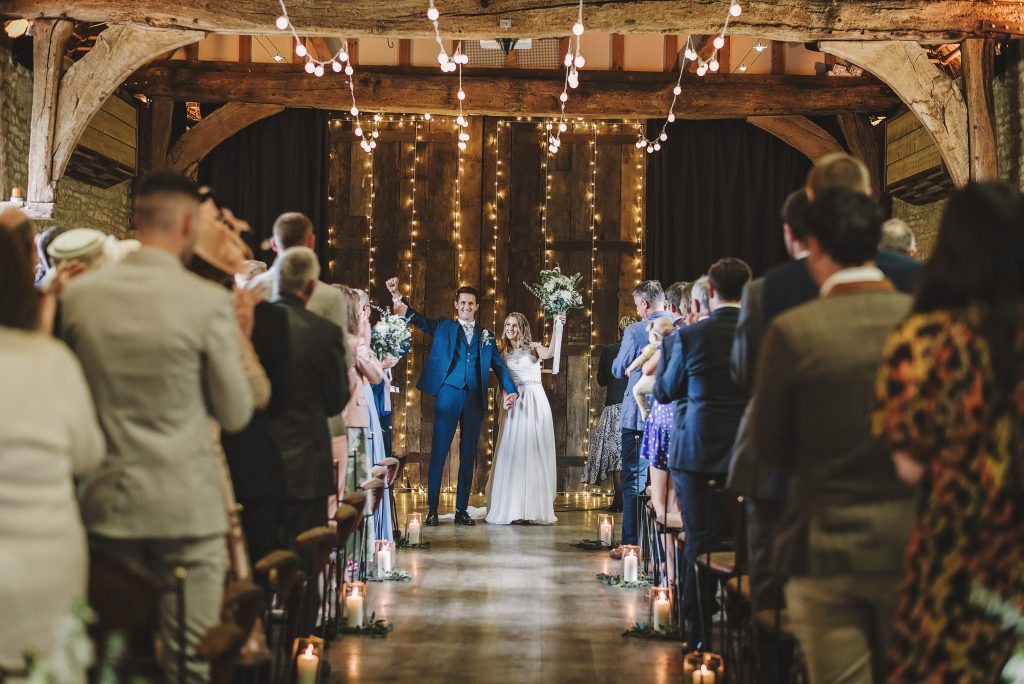 We unfortunately lost our original videographer when we postponed as he wasn't available for our new date but when we found Adam at Rolta Films, we knew he was perfect. We discovered him on Instagram and his fun yet artistically beautiful videos suited us perfectly. On the day, he made us laugh so much and really captured the fun that we had. * (We have included a link to Emma and Josh's fabulous videographer at the end of this blog. It's well worth a look!)
My mum did the flowers for the entire wedding and she did such a fantastic job. We chose to keep the colours simple with lush white flowers, lots of green foliage and hints of blue thistles. My bouquet and the milk churn displays were absolutely perfect and I couldn't quite believe my Mum had created them!
For our wedding cake, Sarah McNally came to the rescue with two weeks to spare when our previous cake maker pulled out. We found her on Instagram and she was absolutely fantastic, so lovely to work with and captured exactly what we wanted for the design. The cake tasted absolutely incredible and we are very lucky to have a few slices left in the freezer!
We booked our band Heatwave after speaking to them at one of Tythe's open days. They were absolutely fantastic and ensured the dance floor was packed all evening. I'd recommend them to anyone and everyone!
As part of the decor, we knew we wanted a neon sign and I had worked with Sundown Signs previously on some styled shoots. Their 'Worth The Wait' sign was perfect for us.
On the day, everything ran so smoothly thanks to the entire team at Tythe and we really did have the most beautiful day. It was full of fun, happiness and a really great atmosphere! We can't thank The Tythe Barn enough.
Huge thanks to Emma for sharing the ideas and inspiration for her September wedding. Links below to everyone involved and here's a few more fabulous shots from Matt!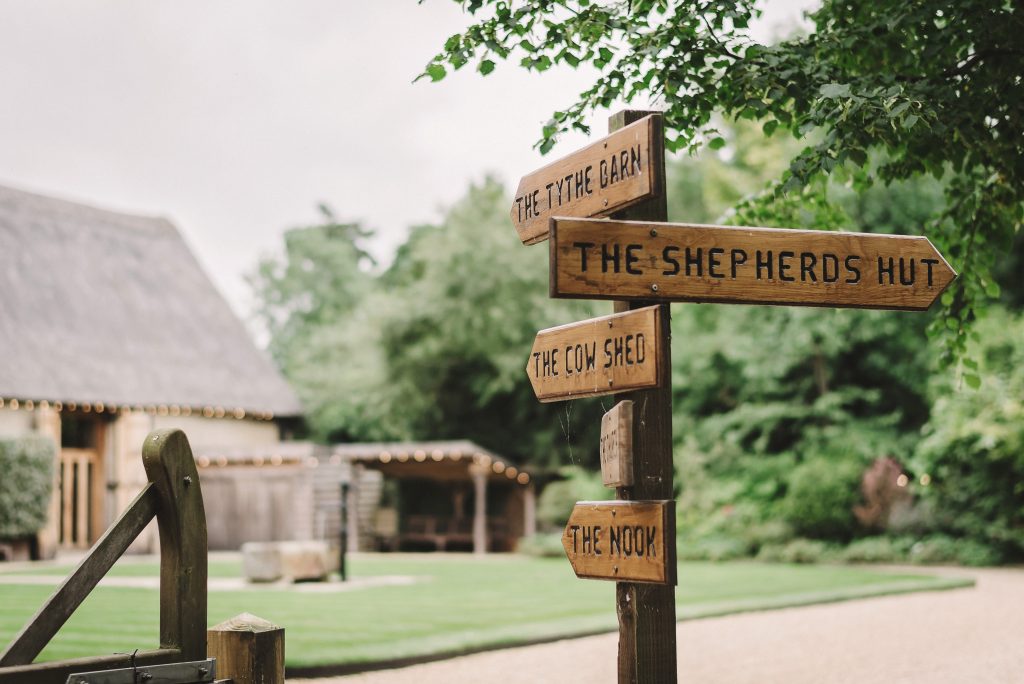 Credits
Suppliers:
Photographer: Matthew Bishop Photography
Hair: Emma Kim Hair
Make Up: Chloe Eleanor MUA
Cake: Sarah McNally Cakes
Videographer: Rolta Films
Band: Heatwave
Neon Sign: Sundown Signs
Wedding Dress: Justin Alexander
Bridesmaids Dresses: WED2B